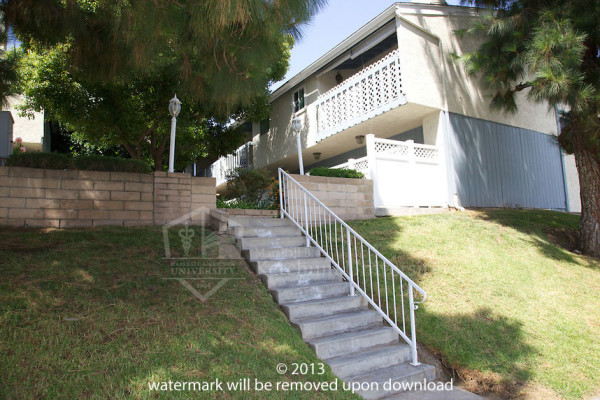 Property Details
Price: $350,000
Address: 2673 Milton Avenue
City: Fullerton
State: CA
ZIP: 92831

MLS #: N/A
Square Feet: 1,202
Bedrooms: 2
Bathrooms: 2
Lot Size: N/A

Property Description
This is an exclusive listing. Available only Marshall B. Ketchum University employees and students.
Tri-level townhome, built in 1979, with attached 2 car garage with plenty of extra storage and laundry hookups. Living room features a fireplace, patio access through sliding glass doors and builtin cabinetry. The dining area, kitchen and one bedroom and bathroom are on the second level with the dining are overlooking the living room. Upstairs is the private master suite with balcony and vaulted ceilings.
Showing Dates
The property is available to preview after Monday June 8th. Please call the listing broker, John Dumke 562 572 2296 for a showing appointment. There will be an open house on Saturday June 13th from 1pm to 4pm.
Bidding Process
Offers will be handled by sealed bid. Offers must be written through the listing agent, John Dumke 562 572-2296, as this is an exclusive listing not available to the general public. The details of any offers will not be discussed or disclosed to any other prospective buyer. The listing agent is however allowed to disclose the total number of offers that have been written.
The minimum bid is $350,000. Buyer must be prequalified with Mark Bowman at Wells Fargo ( 714 450-0085), however there is NO obligation to use Mark Bowman at Wells Fargo. The buyer may obtain their final financing through the lender of their choice. All cash buyers must provide verification of deposit.
All bids are due by Friday, June 19th at 5:00pm.
Please contact John Dumke 562 572-2296 with any questions.
Comparable Sales
Below is a link to all Active Listings, Pending Sales (& Backup Status), and Sold listings since 10/1/2014, for all 2 bedroom, 1.5+ bath townhomes in Fullerton with between 1,000 and 1,400sf. Data is from the CRMLS as 4/24/2015 at 12:50pm
2673Milton-Comps4-24-2015
Related Documents
The link below is the physical inspection of the property performed 3/5/15 by the University.
2673 Milton – Physical Inspection
Additional Photos
Property Map