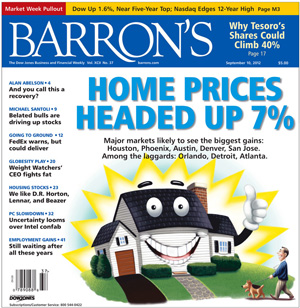 Last month Barron's cover story was about the housing market. The cover predicts that home prices will be headed up 7% in the next 3 years. This prediction almost seems a day late a dollar short, as in August I wrote that Los Altos homes price were up $30,000 year over year, which translates to about 7%, and this was already in place and only within one year.
There are a couple valid points that the article made, but I am just dumbfounded that there is no reference to interest rates playing a major factor in helping support home values and helping establish a bottom in real estate prices. Last year rates were 5%, this year they are hovering below 3.75%. The obvious question for anyone that has the only a modicum of critical thinking skills would be: "If lower enable buyers to pay more for homes, then higher rates might have an adverse affect". This isn't rocket science.
But the article makes NO note of VERY attractive interest rates. By not mentioning very lows rates the author then assumes that rates will either always stay low, or assumes there is no relationship between interest rates and home prices.
There was a quote talking about the impact of the first time buyers credit temporarily lifting home prices. This would have been the perfect time to mention the potentially temporary subsidy that buyers now receive in the form of very low rates.
Barrons' excerpt: "This increase in home prices, unlike the one that occurred in 2009-2010 as a result of the temporary tax credit for first-time home buyers, looks to be for real," says David Blitzer; chairman of the index committee at S&P Dow Jones Indices. "We probably won't see a V-shaped recovery in housing, with prices overall going up 20% in the next year: But this rally has legs, and prices will definitely be higher next year"
I certainly agree that home prices will likely be higher next year. So I am not disagreeing with the articles assessment. It is just that the article seems to miss the big picture. The market IS recovering, but the recovery was and will be PARTIALLY contingent upon the lower rates that are currently in place.
The article deemed it important to mention an $8,000 credit. But this $8,000 credit is NOTHING in comparison to the last drop in rates from 5% to 3.75%. This type of interest rate drop is effectively equivalent to a $60,000 drop in price for a $500,000 home. The other BIG PICTURE comparison, is that the $8,000 credit was at the beginning of the correction in prices. Whereas this last bit of governmental help has occurred after an additional 20%+ drop in values.
While the article was somewhat timely. I am astounded that a major and very respected publication would miss out on what should be a very obvious correlation. The relationship between interest rates and home values.